David Cole: Camboo Festival 2017
Yesterday was the first day of CAMBOO Festival, Cambodia's first festival celebrating its rich natural environment, sustainable design and local industries and artisans. We speak to David Cole, the founder and director of Building Trust International and Atelier Cole to find out more...
Hi David, can you tell us more about your two organisations, Building Trust and Atelier Cole?
Building Trust is a not for profit we started in 2010 to give design and construction support to communities and NGOs. We believe that design at its core is about developing skills for problem solving and creating better solutions having a positive impact upon people, wildlife and the planet. We came to Cambodia with Building Trust in 2013 when we were asked to come and help provide flood resistant housing.
We ran a design competition asking people to come up with design ideas for the housing and asked people affected by the floods to judge the competition. We held an exhibition of the shortlisted entries and were blown away by the interest we got from large NGOs, banks, embassies and students in terms of talking about sustainable design.
Until this point we had been focused on education and housing and then we started looking at inner city recreation areas, conservation and health projects. We set up the office and realised that until then we had been getting pro bono support from architecture firms in Europe, America and Australia to look at problems in developing countries. We had a lightbulb moment and realised that we should take the raw talent we had been exposed to in Cambodia and ask them to help with these projects instead.
So we took on interns and turned down commercial prospects to focus on these projects. But, about a year and a half ago we had a 'face palm moment' when we thought 'what the hell are we doing turning down commercial work which could support our other work?' We couldn't do this through the charitable firm so we set up Atelier Cole. This enabled us to retain more staff and we now have a range of projects with Building Trust and volunteer led offices in six countries!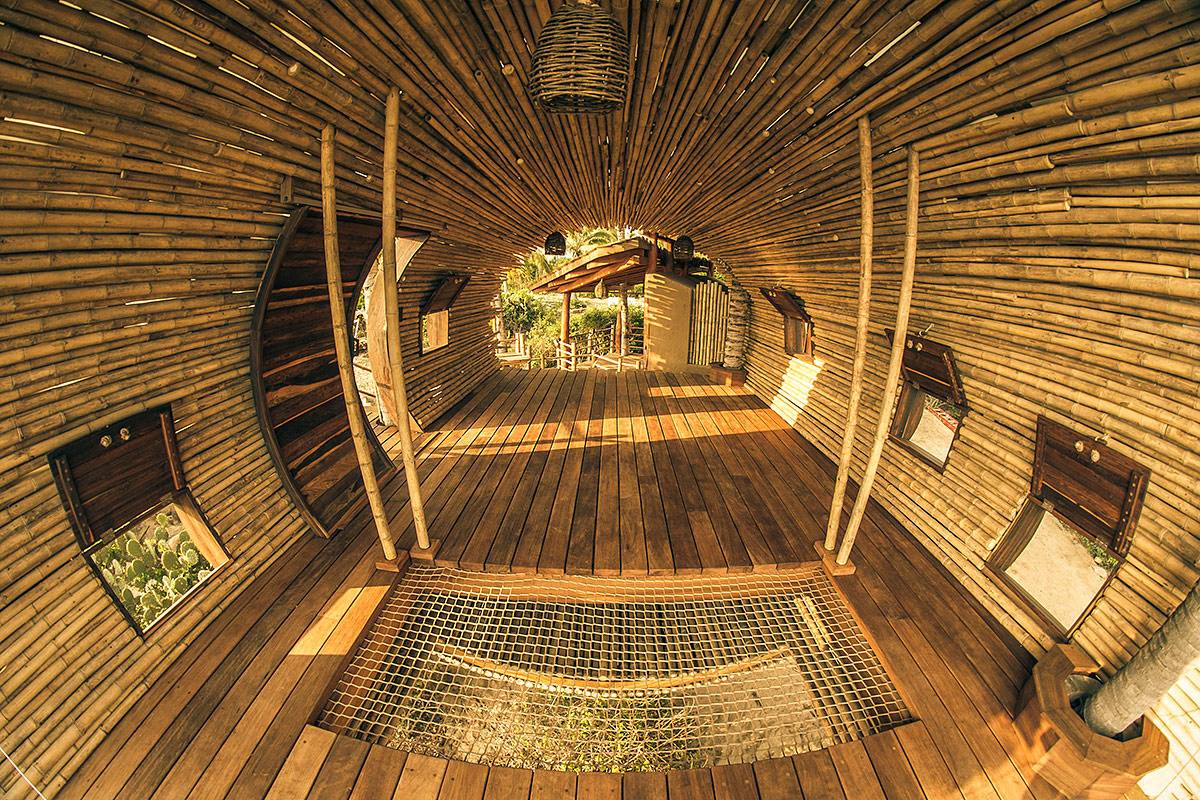 Why is sustainable design important to you and how did you start designing sustainably?
Before setting up Building Trust I used to design large-scale stadium complexes (!) so, completely unsustainable buildings very much driven by profit! After doing this for a few years I felt that I wanted to do something that not just about about design, but also building. I realised when you are designing something at low cost you have to design with sustainability in mind. You need to buy materials that are locally sourced and think about the lifetime cost of the project, it's not just about 'green-washing' for the sake of meeting a client's dabbling in a bit of sustainability or wanting to meet some LEED goals [LEED stands for Leadership in Energy and Environmental Design and is an internationally recognised green building certification scheme]. Here, when working with low cost buildings and clients with little or no money, sustainability is the most important thing.
Above: Construction of the restaurant area of Heng Chey Mountain Meditation Retreat and Training Accademy in Kampong Cham. It is designed as a lotus leaf collecting rainwater and feeding the ponds and landscaped gardens around it.
We have seen that you use a lot of bamboo in your work, can you tell us more about this?
It's the nature of the business. We built several structures with bamboo, people liked it - and then more people requested it! We began to get more skilled at doing it, more adventurous and more playful! Now we are one of a handful of architecture firms in South-East Asia and the World that use bamboo in the way that we do - building big strand structures.
Above: 'Bamboo Trees' retail area for Free The Bears, Ta Kwang Xi, Laos.

Why is bamboo such a great material?
Well, for a start it is incredibly renewable as it grows exponentially faster than timber [Bamboo fact - some species can grow 3ft in 24 hours!]. It is easy to source, to cut and to transport to site. We can treat it which enables us to increase the lifespan! There is a stigma about it being low-grade, low cost material but with modern treatment it can last up to four decades. There is also a tactile quality to bamboo that our clients really appreciate. Each piece is different!
One of the reasons that I like it personally is that there is only so much design that we can do in the office. Because of the variations in natural material, we have to draw a line and say, ok now it's necessary to be on site and have a back and forth with the skilled workers. I really like being out there, rather than being behind a computer.
What makes bamboo so strong?
Well it has an incredibly high tensile strength, meaning it is supple and can take a lot of bending before it snaps due to the structure of the strands within it. We can use it like carpenters use timber for frames. There are, however, three things that will attack bamboo - pests, water and sunlight. With pests we need to treat it with a natural sugar solution or with chemicals (the only benefit of this is speeding up the process). For the latter, we can design these out (meaning reducing the exposure) and this is why the structures often have the over-hanging roofs, reducing exposure to the elements.
OK, so moving onto Camboo Festival...

[Camboo fest is a festival of natural resources and the environment in Cambodia and South East Asia. The event will be held in Freedom Park from 4pm-9pm daily from 28th March to 1st April. Building Trust is running two sustainable design competitions during the festival, the Pavilion competition and the Landmark Design Challenge]
Above: Competition entries from six of Phnom Penh's top universities. Each design takes its form from nature and is inspired by the natural environment of Cambodia.
Can you tell us more about the festival and the competitions you are running?
Six of the best architecture and design universities from Phnom Penh are taking part in a competition to design pavilions for the festival. We have been running workshops with the teams of three to four students from each university for the past month. The competition is based on a public vote system so everyone coming to the event can vote!

Then we have the Landmark Design Challenge which is an international competition for the central hall space where we will have various Cambodian acts throughout the festival - e.g. Cambodian Living Arts; Cambodian Space Project
Above: The winner of CAMBOO: 'HYPERBAMBOO' by Roberto Bologna, Fernando Barth, Chiara Moretti and Denny Pagliai from Firenze, Italy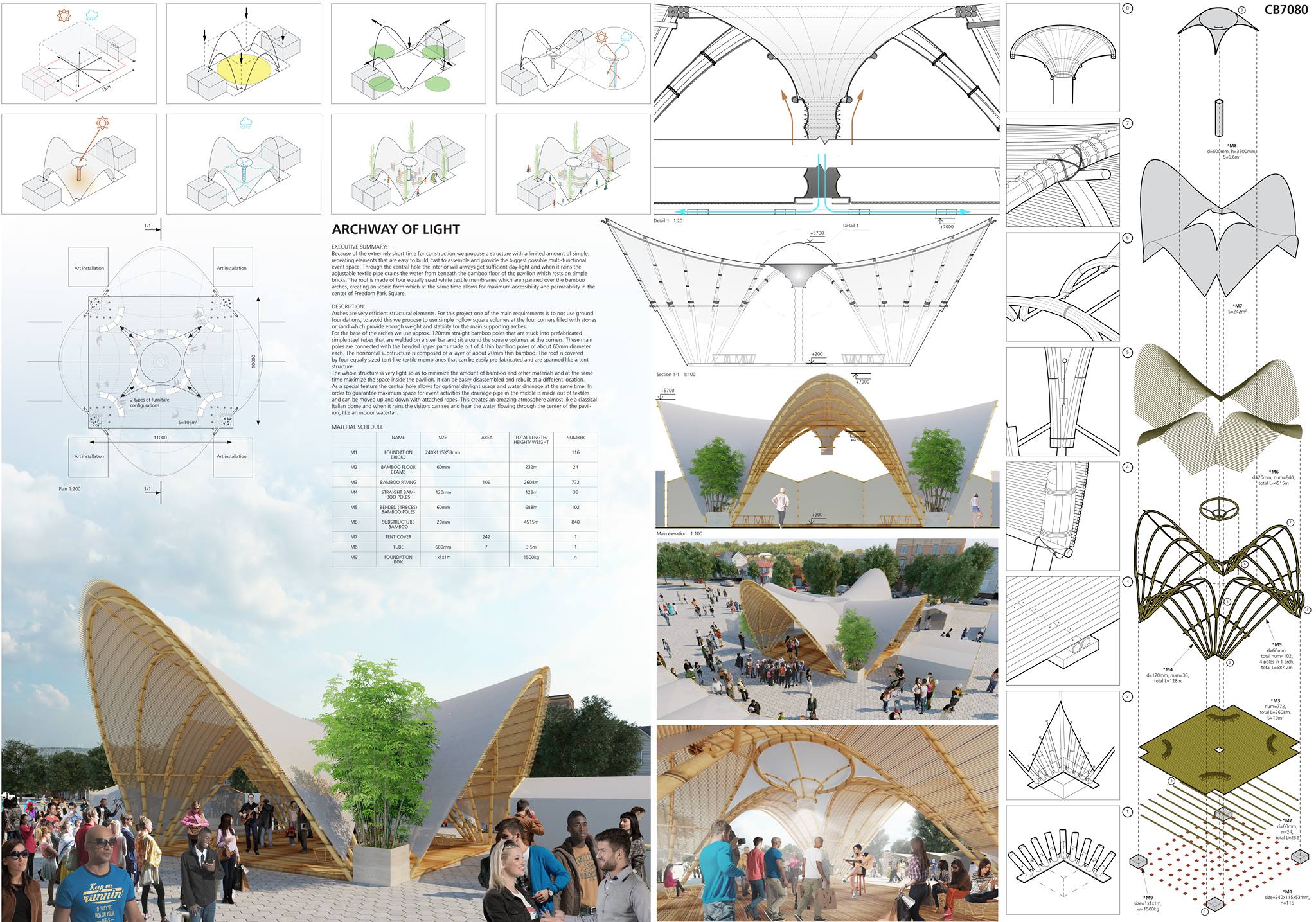 What else is going to be at the Festival?

Camboo will be a great opportunity to showcase some of the work that our NGO partners are doing in line with what we are trying to promote. For example, WWF and Ibis rice have their own social enterprise projects linked to industries such as rattan and weaving; and to eco-tourism. Impact Hub phas also put us in touch with other organisations looking at sustainable design, for example, Plastic Free Cambodia.

On Tuesday 28th, we will be finishing building the Main Hall and from Thursday to Saturday there will be different acts and performances. Phare, the Cambodian circus will be there and Cambodian Space Project are launching a new project called Angkor Pop! which is showcasing new young Khmer groups! Roots n Burgers, La Pops, Aziza's Coffee will all be there too. It should be fun! It's homespun but it's the first one so let's see how it goes!
Are there any other sustainable materials that you would like to work with that are available here in Asia?
With some of our clients we need to deliver safe, long life and structurally sound buildings on an incredibly low budget. We therefore try to work with materials on site as much as possible. For example, we are building a bear sanctuary in Vietnam with gabions (cages filled with rocks). We have also done earth constructions, for example adobe and wattle & daub. The latter is rendered with a lime plaster so you get a very tactile earthenware finish as the plaster allows moisture to go through the clay. It's also a lot cooler and works in tropical climates as it results in thicker walls which take on a lot of the heat.
I would love to use some of these materials on more high end projects. The hospitality sector has become very interested and we have been contacted with the possibility of restaurant designs. If we could get one of these projects underway that would be cool as we could then spend more money on the details.

Do you have any thoughts about architecture in Phnom Penh in general?
I think the future is bright! The guys we are working with from the universities are incredibly talented. It will take a few years for them to get to positions where they are able to give the creativity they have in spades back to Cambodia but one of the reasons we have stayed is the optimism and enthusiasm we see from people here about the future.
Is sustainable design a core part of these architecture courses?
I don't know that it is a core part, but I have been asked to give talks on social housing, and there is definitely an appetite for it from the young guys. Collectively, as a profession, there is a growing commitment to realising that things need to be done differently, both in terms of the construction process and the lifetime costs of people living in buildings, especially in climates like this where they need to be cooled down. However, I would say that the number of condos being developed is not sustainable and there needs to be more ideas from the Government for affordable housing otherwise no one is going to win, even the developers.
Visit the CAMBOO Festival this week 4pm-9pm daily until 1st April. Performances and workshops listed below.